Kalindi Khal pass (5,950 M)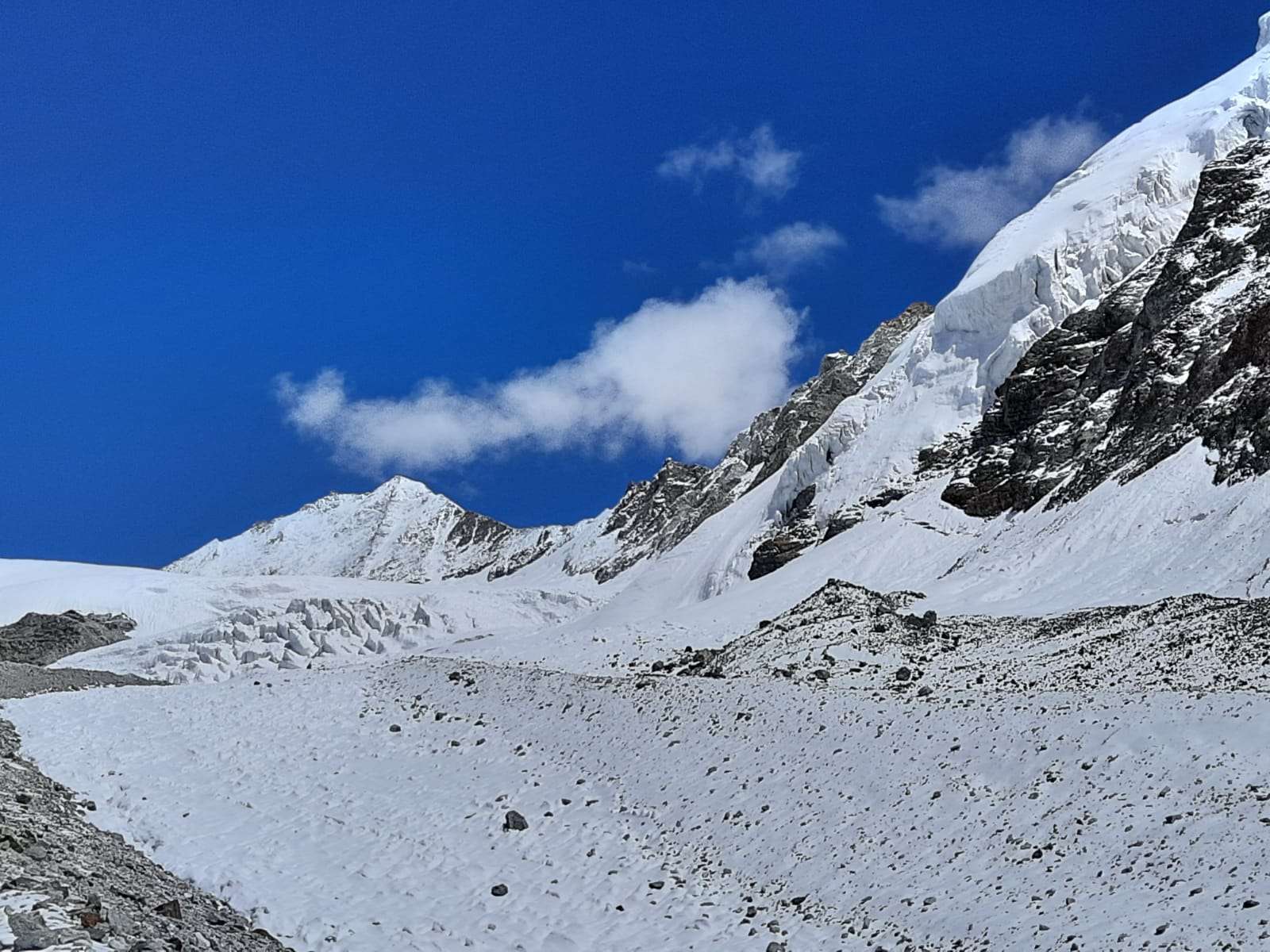 Kalindi khal pass
situated in the north india's gangotri glacier.
elevation 5,950 mtr from sea level
overview
P & D
Uttarkashi To rishikesh
best time
may, june, september, october
routes
uttarkashi-gangotri-bhojwasa-nandanvan-khara pathar-sweta glacier-kalindi khal-raja paraw-ghastoli-badrinath-rishikesh
Kalindi Khall Pass: Conquering the Majestic Pass
···—
Kalindi Khal Pass is a high altitude mountain pass located in the Indian state of Uttarakhand. It connects the holy town of Gangotri to the village of Badrinath and is situated at an elevation of 5,950 meters (19,520 feet) above sea level.
The trek to Kalindi Khal pass involves crossing several high-altitude glaciers, moraines, boulder fields, and steep rocky terrain. It is a long and strenuous trek that usually takes around two weeks to complete. Along the way, trekkers can enjoy breathtaking views of snow-capped peaks, pristine alpine lakes, and vast glaciers.
The pass is named after the Kalindi river that flows from the snout of the Gangotri Glacier and joins the Alaknanda river near the village of Mana. The trek to the Kalindi Khal Pass is a challenging and strenuous one, as it involves navigating through steep slopes, snow-covered trails, and glacial streams. And it requires a high level of physical fitness, mountaineering skills, and proper gear.
Kalindi Khal Pass offers breathtaking views of the surrounding Himalayan peaks, including Shivling, Meru, and Bhagirathi III. It is a popular destination for adventure enthusiasts, mountaineers, and trekkers seeking an adrenaline-pumping experience in the midst of natural beauty.
Gallery
1. Accommodation. (Guest house/Camping)
Exclusions:-
1. Any kind of personal expenses.
2. Food during the transit.
3. Insurance
4. Mules or porter to carry personal luggage.
5. Anything not specifically mentioned under the head.
6. Any kind of emergency evacuation charges.
Note : Charges of off loading backpack:- INR 8000/- The backpack cannot weigh more
than 10 kgs.
Why Choose Us?
✅  Recognised by Government of India
✅  Special Focus on safety 
✅  Local Knowledge and Experience
✅  High Operating equipment 
✅  Friendly and kind staff 
✅  Value of time and money
✅  Guarantee fixed departures
✅  Save time and effort  
Cancellation Policy

Cancellations prior to 30 days from the start of the Trip
a. Get 95% refund
B. 100% cash voucher for any trip till one year
Cancellation between 30 days and 15 days to the start of the Trip
• Get 70% cash refund
• 100% cash voucher for same trip till one year
• 80% cash voucher for any trip till one year
Cancellation less than 15 days to the start of the trek
• No refund
Kalindi Khal Pass with Great Adventure Gangotri
Contact us for planning your Kalindi Khal Pass with best travel packages of as per your requirements!
INTERNATIONAL  AND NATIONAL MEMBERSHIP 
Recognised by Ministry of Tourism, Government of India as Inbound tour operator & Adventure tour operator. Registered  with Indian Mountaineering Foundation. ( IMF )
©2023. greatadventure.in All Rights Reserved.