Mt: Bandarpunch Expedition (6,316 M)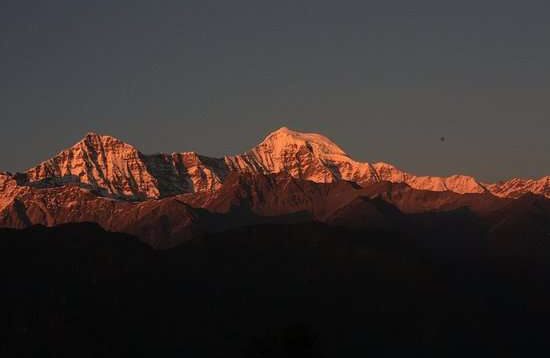 bandarpunch peak
situated in the north india's Hanuman Ganga valley.
elevation 6,316 mtr from sea level
overview
P & D
Uttarkashi To Uttarkashi
best time
may, june, september, october
routes
uttarkashi-sukhi -forest camp-base camp-camp 1-summit-camp 1-base camp-forest camp-sukhi -uttarkashi
Mt. Bandarpunch Expedition
The name Bandarpunch / Bandarpunch (also spelled as Bandarpoonch.) literally means "Monkey's tail" in Hindi. And it is a lovely mountain in the western Garhwal region of Uttarakhand. There are three mountains in the massif above 6000 meters. namely Bandarpunch I (6,316 m) and Bandarpunch II (6,102 m) and Kalanag ( Black Peak ) with twin peaks of 6,387 m. Bandarpunch II is also known as White Shikhar. Massif can be easily seen from many places in Garhwal. The first successful operation of Bandarpunch. was led by Major General Harold Williams in 1950. In which the great mountaineer Tenzing Norgay was also included. They reached near the mountain from the Hanuman Ganga valley. located in the south-west of the mountain. Doon School masters Jack Gibson and John Martin to give their kids. a climbing experience during the summer holidays. This area began to be used when the mountain rose to prominence. He was the first to actually trace the route in 1937. Tenzing Norgay in his autobiography refers to Bandarpunch as 'The Doon School Mountain'. We walk the route southeast of the mountain. The same route, which was successfully climbed. for the first time in 1975 by the Nehru Institute of Mountaineering (NIM). When he took his students to the advanced mountaineering course in the spring. The trek to the base camp starts from Sukhi, which is located on the road leading to Gangotri. The base camp is a two day walk from here and we set up two alpine camps above the base camp before attempting the summit. The climb route is fairly straight but there is a lot of rift between Camp 1 and the summit. The mountain is an ideal training ground for climbing expeditions in the Himalayas. In which the summit offers incredible views of Garhwal's high mountains. (including Satopanth, Sudarshan Parvat, Chandra Parvat, Svetvaran, Matri, Thelu. Srikanta, Jogin ) to the south and east. Gangotri Range and Jaunali) and the mountains of Kinnaur in the western sky.
Mount Bandarpunch Expedition with Great Adventure Gangotri
Contact us for planning your Bandarpunch Expedition with best travel packages of as per your requirements!
INTERNATIONAL  AND NATIONAL MEMBERSHIP 
Recognised by Ministry of Tourism, Government of India as Inbound tour operator & Adventure tour operator. Registered  with Indian Mountaineering Foundation. ( IMF )
©2023. greatadventure.in All Rights Reserved.